Ayesa ranks in the World's Top 50 International Engineering Design Firms for a third consecutive year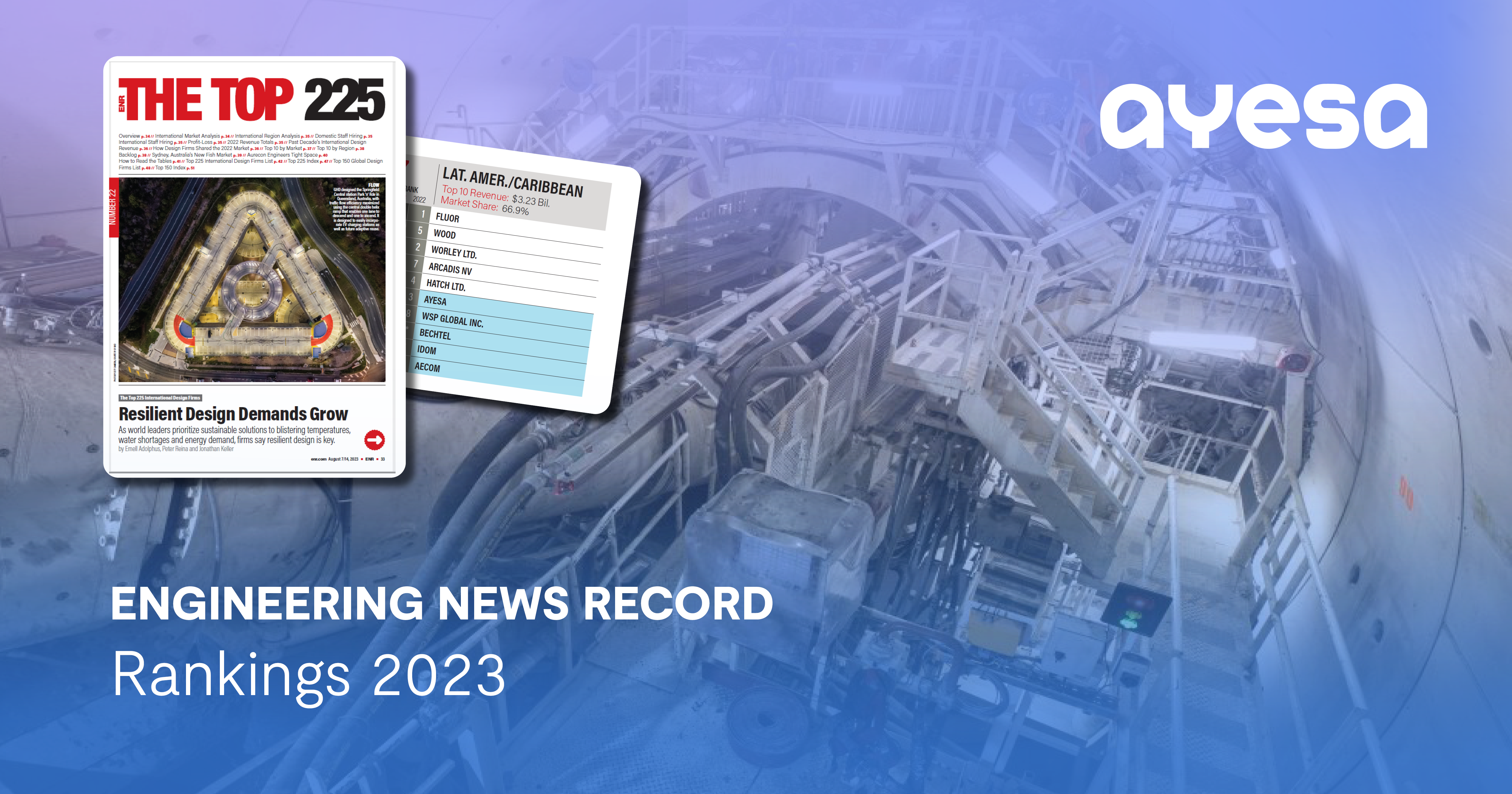 Ayesa m

aintains its position among the world's Top 50 ranked firms for the third consecutive year

.


Ayesa is a Top 10 leader in Latin America: ranking #6 out of 10 tier-one players in a region worth $3.2bn.



Ayesa ranks #105 in the Top 150 Global Design Firms

.

The 2023 ENR Top 225 International Design Firms Report: Ayesa solidifies its status as a critical player in International Engineering Design Projects. Read the full ENR report and rankings here.
According to the 2023 Engineering News-Record Report, Ayesa, a global provider of technology and engineering services, maintains a consistent position as a Top 50 international engineering design firm for the third consecutive year. In addition, it is placed again in the Top 10 in respect of the Latin American region, ranked at number 6 out of 10 tier-one global engineering players. Ayesa is playing a significant part in the delivery of critical transportation infrastructure across the world and particularly in Latin America, including the Santo Domingo Metro Line (Dominican Republic), Santiago Metro (Chile), the Bogota Metro/Monterrey Metro (Mexico), and the Lima Metro (Peru).
Maintaining its position among the world's Top 50 ranked firms for the third consecutive year, Ayesa solidifies its status as a critical player in international engineering design projects.
Ayesa's international activities remain a significant strength for the Group, with foreign revenues accounting for 31% of the total revenue, highlighting its global financial stability and diversification. The aim is to strengthen Ayesa's international presence by establishing and expanding into other countries, continuing to grow the Group's profile and position in the global market.
Note: The Top 225 International Design Firms rankings are based on design-specific export revenue generated from projects outside each firm's respective home country;
The Top 150 Global Design Firms rankings are based on total design-specific revenue, regardless of where the projects were located.


AYESA ENR RANKINGS 2023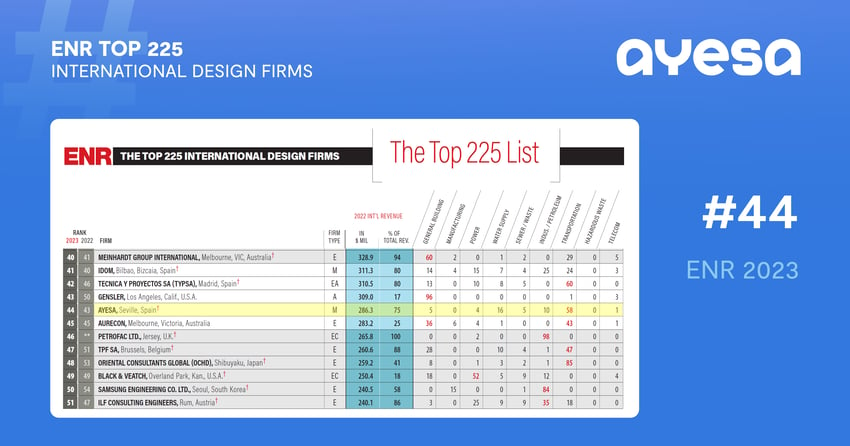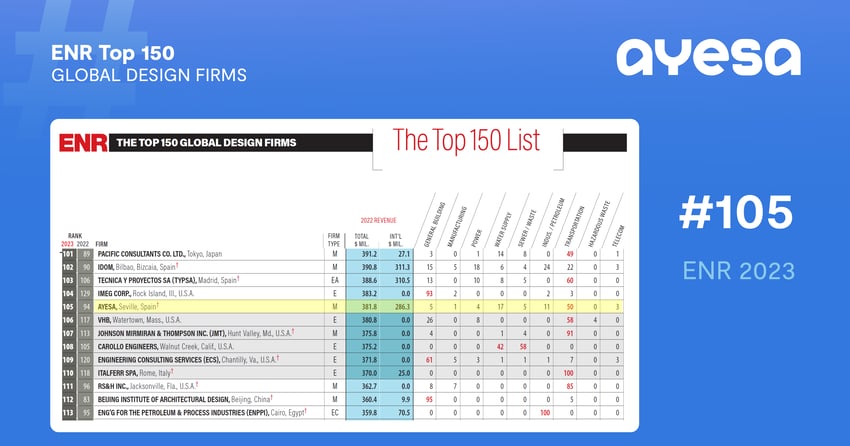 THE MAIN ISSUES WHICH CONCERN THE WORLD'S LEADING ENGINEERING CONSULTANTS IN 2023
Amid global concerns over rising temperatures, water scarcity, and energy needs, engineering consultants are prioritising resilient design to address these challenges and promote sustainable solutions. According to the ENR 2023 report, these are a list of the main themes which face global engineering services providers in 2023.
Strategic Acquisitions: Firms are strategically acquiring other companies to expand their capabilities, and strengthen expertise in areas like MEP engineering and mission-critical facilities.

Resilience and Sustainability: With increasing global extreme weather events and energy demands, firms are focusing on resilient designs, climate adaptation, and sustainable solutions to ensure the continuity of critical functions like data centers and emergency services.

Growing Demand for Climate Resilience: Rising awareness of climate factors is compelling clients to seek environmental and energy ratings, driving demand for energy-efficient and climate-resilient designs and solutions.

Collaborative Contract Models: Collaborative contract models that emphasize mutual goals, risk sharing, and problem-solving are gaining traction, leading to improved project outcomes and stronger owner-contractor relationships.

Innovation and Sustainable Design: The industry is embracing innovative solutions and sustainable design practices to address challenges posed by climate change, such as rising temperatures affecting construction materials.

Regional Market Dynamics: Firms are experiencing varying growth trends across regions, with emphasis on markets such as the Middle East, Asia-Pacific, and North America for their growth potential in sustainable infrastructure.

Labor Shortages and Supply Chain Challenges: Labor shortages, material cost inflation, and logistical challenges are impacting project execution, driving the need for innovative solutions to overcome these obstacles.

Digital Transformation and AI Integration: Firms are integrating AI technologies and digital innovation, including BIM and AI analytics, to enhance project design, execution, operations, and maintenance, enabling faster project timelines and low-carbon solutions.

Local Partnerships: Collaborating with local partners is seen as crucial for successful international projects, offering insights into regional regulations, materials, specialized engineering, and permitting processes.

Balancing Economic Conditions: Economic conditions, including political instability and inflation, have the power to enable or inhibit progress in sustainable infrastructure markets, necessitating long-term commitment and investment for successful energy transitions.
EDITORS NOTES

About Ayesa
Ayesa is a leading global provider of Engineering and Technology services with 12,000 professionals and over 649 million euros in turnover in 2022. Ayesa leads the new economy providing solutions with cutting-edge technology, digitalisation, and sustainable approaches. Ayesa's goals are to create resilient, connected, sustainable assets in the built environment, assist clients with their digital transformation and the energy transition, and unlock the power of data for informed decision-making.
Ayesa provides the full range of engineering services across the entire lifecycle: including feasibility, assessment, design, construction, supervision, project management, operations, and maintenance.
Ayesa is a top 5 IT services provider in Spain with a vast range of services including the cloud; systems integration and application management; security; intelligent platform services; infrastructure services; software engineering services; big data and artificial intelligence (AI).
Ayesa is ranked #44 in engineering design worldwide and #6 in Latin America.* Visit: Ayesa.com
(*ENR: 2023)
Connect with Ayesa UK, Ireland, and the Middle East on Facebook, Instagram, LinkedIn and Twitter.
FOR MEDIA QUERIES CONTACT:
Ayesa Head of Marketing Engineering - Anglo-Markets
Siobhan Warfield-Beattie
SWarfield@ByrneLooby.com
Cell: +353 86 8052995
T: +353 (0) 1 456 4370