On 19th October 2023, ByrneLooby will rebrand to Ayesa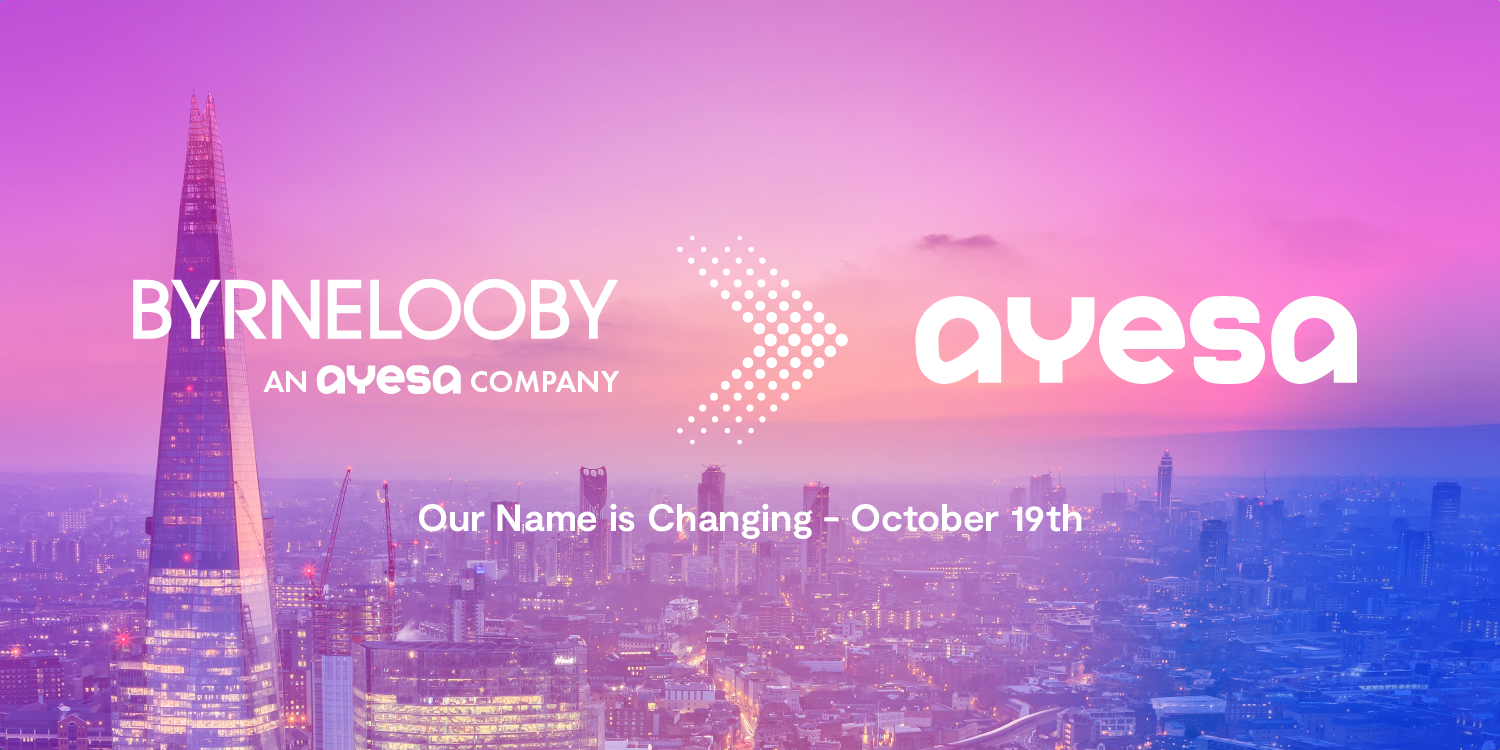 Ayesa will be the new name for ByrneLooby


Read our rebrand document here

ByrneLooby, an award-winning engineering leader, will officially adopt the name of its parent company, Ayesa, a global engineering and technology services provider, from October 19, 2023. This rebrand follows an 18-month integration phase that began with Ayesa's acquisition in February 2022. It signifies a successful blending of strengths to drive growth in the UK, Ireland, and the Middle East.

With thirteen offices spanning the UK, Ireland, and the Middle East, ByrneLooby, who will market itself as Ayesa, remains steadfast in its commitment to being a highly technical and innovative partner. The company will continue its involvement in a multitude of infrastructural projects for both public and private sector clients across these regions.
John Byrne, Country Manager of UK, Ireland at ByrneLooby, An Ayesa Company commented: "Our rebrand to Ayesa will have no implications for any project contracts, warranties, or delivery, and indeed, for the moment, our legal entities remain unchanged. In due course, there will be some corporate renaming and consolidation; we will keep our stakeholders fully appraised of updates. Operating under the Ayesa brand marks the start of an ambitious new journey for ByrneLooby. We look forward to continuing to work with our clients with our firm commitment to their projects"
ByrneLooby will assume the visual identity and logo of Ayesa to promote it as a leading voice in engineering and technology with the rebranding of social media platforms, websites, office stationery, signage, brochures, and presentations.

EDITORS NOTES
About Ayesa
Ayesa is a leading global provider of engineering and technology services with 12,000 professionals and over 649 million euros in turnover in 2022. Ayesa leads the new economy providing solutions with cutting-edge technology, digitalisation, and sustainable approaches. Ayesa provides the full range of engineering services across the entire lifecycle: including feasibility, assessment, design, construction, supervision, project management, operations, and maintenance. Ayesa is ranked #44 in the Top 225 international engineering design firms worldwide and #6 in Latin America.*
*Engineering News-Record: ENR Ranking 2023.
Connect with us on Facebook, Instagram, LinkedIn and Twitter.
FOR QUERIES CONTACT:
Head of Marketing:
Siobhan Warfield-Beattie
SWarfield@ByrneLooby.com
Cell: +353 86 8052995
T: +353 (0) 1 456 4370