ByrneLooby successfully appointed to Fusion21 Consultants Framework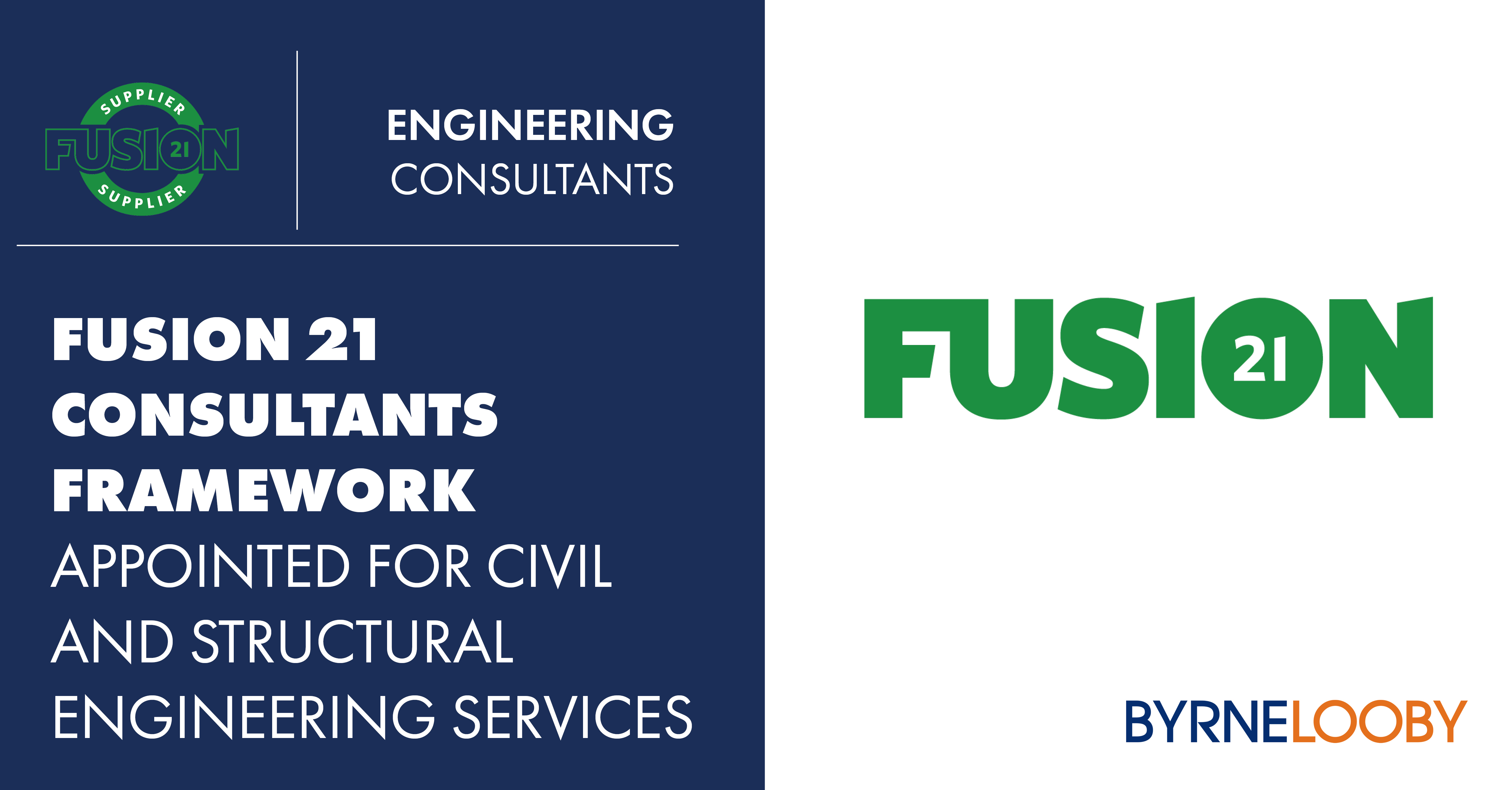 We're delighted to be appointed as a supplier for Civil and Structural Engineering services on the Fusion 21 Consultants Framework.
Fusion21 has appointed ByrneLooby to their select panel of industry-leading suppliers. Our 250+ specialists will provide multidisciplinary services in civil, structural, geotechnical, conservation, temporary works and project management expertise to this leading framework worth £120m over four years with an estimated 100 projects each year.
A total of 112 consultants made the cut, with around 80% rated as SMEs. The Fusion21 framework provides a full range of construction consulting across 12 lots, and we have been appointed to Lot 7 to provide structural and civil engineering consulting to projects. Fusion21 created the framework to meet the consultancy needs of public sector organisations in the blue light, central government, education, health, housing and local government sectors. The framework allows the public sector to access highly skilled consultants who share the ethos of lasting change and social value through purposeful procurement.

Our collaborative approach, in-house technical excellence and proven track record in delivering complex projects will provide real value for the wide range of Fusion21 members. As industry-leading specialists, we apply holistic thinking to champion the best outcomes. We examine how the project's 'big picture' connects, impacts, and interacts with its surrounding complex ecosystem. We analyse multiple scenarios such as social impact, infrastructure, services, the natural environment and businesses. Equipped with the latest global best practices, our teams constantly challenge the status quo and develop innovative strategies that bring social value and positive changes to the communities of the project.
Phil Woodhead, Category Manager of Fusion21, commented: ""We are delighted to welcome all of the new suppliers onto the framework, including ByrneLooby. The tender process was highly competitive and the process has identified the best consultants for our members to use. A further, real benefit to our members and their communities is the social value delivery that is aligned to organisational priorities and can be monitored and reported against for all call offs.""
EDITORS NOTES

About ByrneLooby

Founded in 1998 in Ireland, ByrneLooby has expanded to become a widely respected engineering consultancy that employs approximately 250 engineering consultants and professionals located in 14 offices across Ireland, the UK and the Middle East. We provide engineering and design consultancy services across ten sectors, marine and coastal, geoscience, buildings, transportation, energy, environment, water, flooding, waste management and conservation. ByrneLooby sits on a number of national frameworks in Ireland, the UK and the Middle East.
Visit byrnelooby.com and connect with Byrnelooby on Facebook, Instagram, LinkedIn and Twitter.
About Fusion21

Fusion21 provides fully compliant procurement frameworks for property, construction and the built environment and offer a range of community regeneration services, Fusion21 prides itself on making a real impact – whether that's on bottom-line cost savings for the public sector or supporting the incredible work in a local community.
FOR MEDIA QUERIES CONTACT:
ByrneLooby Marketing & Communications Manager:
Siobhan Warfield-Beattie
SWarfield@ByrneLooby.com
Cell: +353 86 8052995
T: +353 (0) 1 456 4370