ByrneLooby announced as a Platinum Deloitte Best Managed Company 2021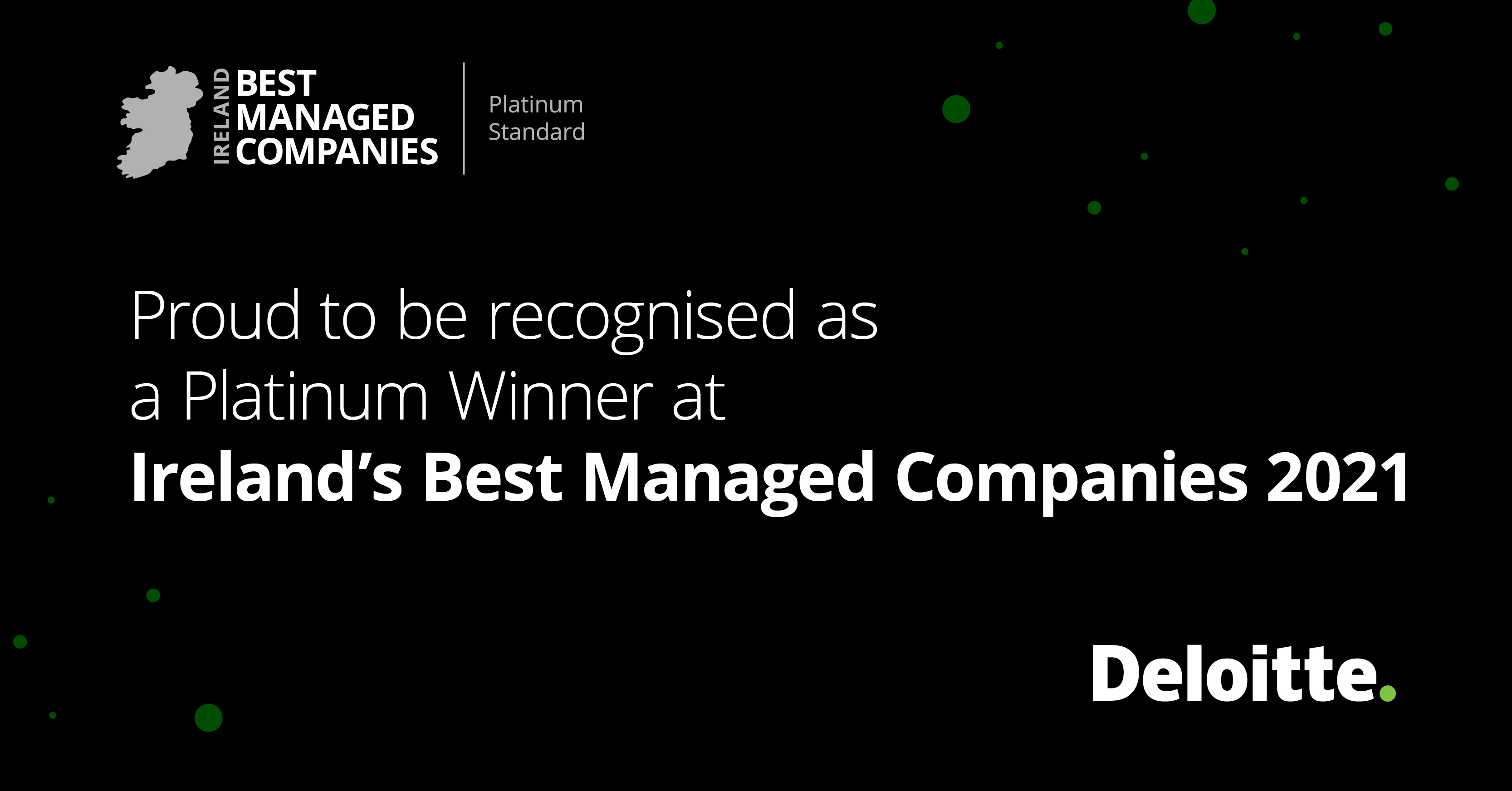 This award shines a spotlight on outstanding private businesses from across the island of Ireland and the exceptional performance that drives them.
ByrneLooby has been named as one of Ireland's Best Managed Companies. The awards programme is led by Deloitte Ireland, in association with Bank of Ireland. Winners of the award demonstrated superior business performance and were recognised at a virtual awards ceremony on Wednesday, 8 September. We couldn't be happier or more proud of team ByrneLooby. Only 12 companies were awarded Platinum Standard, requalifying for their seventh consecutive year and ByrneLooby were part of this group.
Ireland's Best Managed Companies Awards programme promotes and recognises excellence in Irish/Northern Irish owned and managed companies and is the only awards scheme on the island of Ireland that considers a business' performance from every perspective.

Best Managed companies must exhibit a number of common attributes enabling sustained growth. We were evaluated under the following five pillars;

🏆 Strategy
🏆 Culture & Commitment
🏆 Capabilities & innovation
🏆 Governance & Financials
🏆 Impact of Covid 19 and our response to the pandemic.

Well done to each and every staff member at ByrneLooby for their continued focus on technical excellence, commitment to clients and investing in our people. Our performance is down to each and every one of our 250 people.

Anya Cummins, Lead Partner for Ireland's Best Managed Companies Awards Programme at Deloitte Ireland said: "This year, a record number of applications to the Ireland's Best Managed Companies Awards programme were received. The quality of the applicants demonstrated the extraordinarily high-quality businesses operating across the island of Ireland today. In a relentlessly challenging year, the winning companies displayed true bravery in how they adapted to change, with many innovating and some even accelerating their plans for their businesses."
EDITORS NOTES

About ByrneLooby
Founded in 1998 in Ireland, ByrneLooby has expanded to become a widely respected engineering consultancy that employs approximately 250 engineering consultants and professionals located in 14 offices across Ireland, the UK and the Middle East. We provide engineering and design consultancy services across ten sectors:
International History of Best Managed Companies Awards Programme
The Best Managed Companies Awards Programme originated in Canada in 1993, where it has been run successfully ever since and is the country's leading business awards programme. In addition to Ireland and Canada, the programme is currently run in a total of 37 countries including China, The US, Southeast Asia, The Netherlands, Belgium, Germany, Denmark, Czech Republic, Italy, Sweden, Norway, Turkey, Mexico and Chile, with upcoming launches planned in three other countries.
Read the full list of winners here.
Visit byrnelooby.com and connect with Byrnelooby on Facebook, Instagram, LinkedIn and Twitter.
FOR MEDIA QUERIES CONTACT:
ByrneLooby Marketing & Communications Manager:
Siobhan Warfield-Beattie
SWarfield@ByrneLooby.com
Cell: +353 86 8052995
T: +353 (0) 1 456 4370