BYRNELOOBY RANKED IN THE ENR TOP 225 INTERNATIONAL ENGINEERING DESIGN FIRMS IN THE WORLD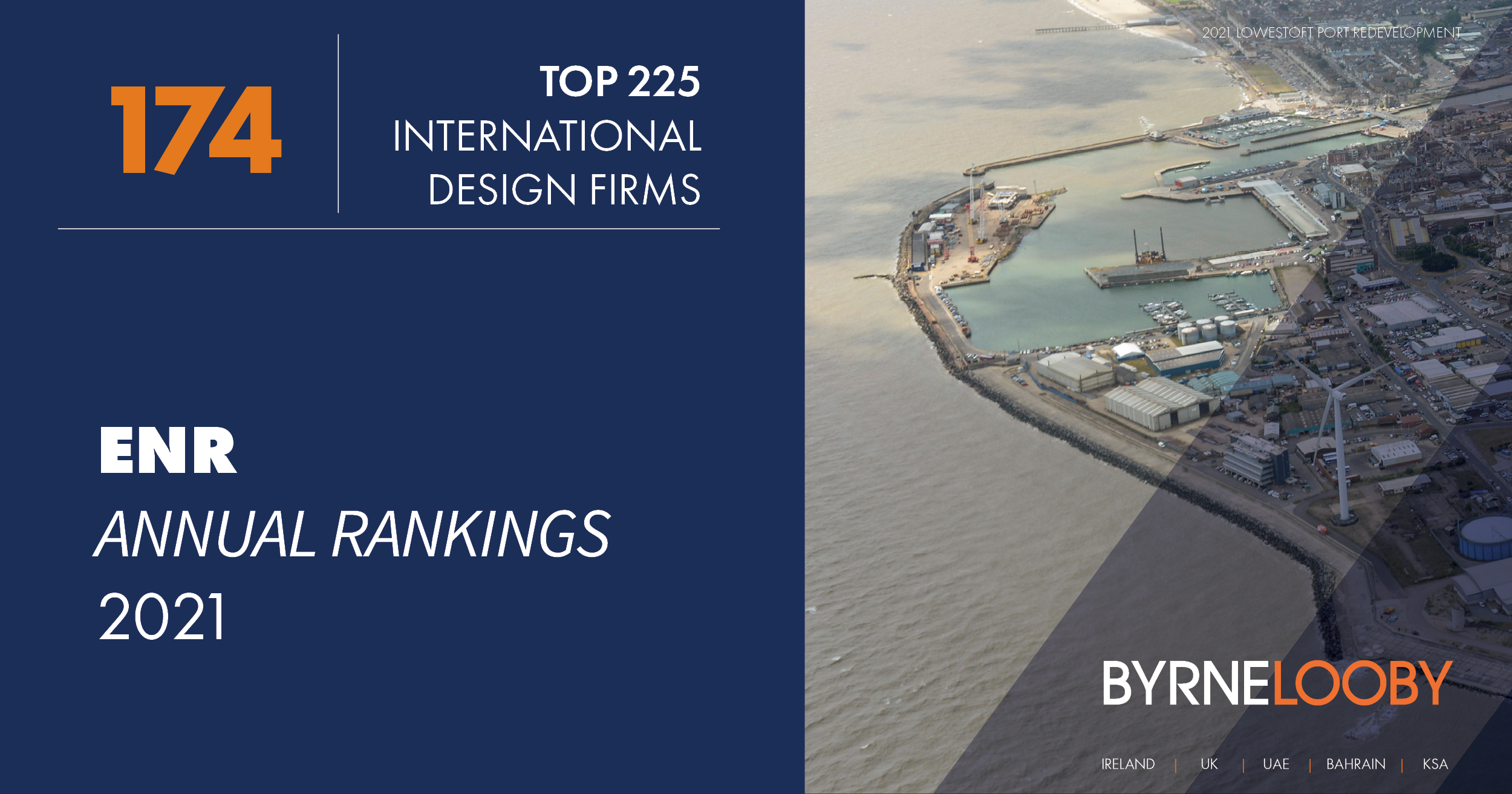 We are pleased to announce that ByrneLooby is ranked #174 out of 225 international consultants worldwide
The Engineering News-Record (ENR) have just released their Top 225 Design Firms Report for 2021, which ranks the world's top international engineering consultants, based on design-specific export revenue generated from projects outside the home country. We are pleased to announce that ByrneLooby is ranked #174 out of 225 international consultants worldwide. ByrneLooby is one of just four indigenous Irish firms on the 2021 list.
John Byrne, Group Managing Director of ByrneLooby, commented: "This ranking reinforces Byrnelooby's standing as one of the top tier international engineering consultants in the world. It demonstrates our proven international track record in the UK and the Middle East delivering large complex projects for our clients. Our connected expertise and technical excellence in engineering, design, consulting and project management has been recognised time and time again as we continue to expand revenue by working on important infrastructure projects throughout the UK and the Middle East. To be in the top international engineering consultants in the world is exciting for us and it reflects the dedication of our 225+ professionals who deliver high-quality services and innovative solutions for clients across our eleven local offices in the UK and The Middle East."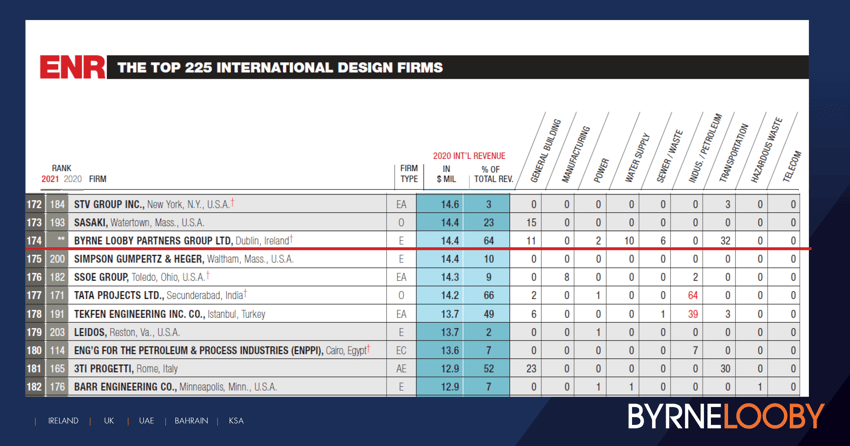 EDITORS NOTES

About ByrneLooby

Founded in 1998 in Ireland, ByrneLooby has expanded to become a widely respected engineering consultancy that employs approximately 250 engineering consultants and professionals located in 14 offices across Ireland, the UK and the Middle East. We provide engineering and design consultancy services across ten sectors, marine and coastal, geoscience, buildings, transportation, energy, environment, water, flooding, waste management and conservation. ByrneLooby sits on a number of national frameworks in Ireland, the UK and the Middle East. This is the first year ByrneLooby has been ranked in the ENR Top 225 International design firms.
Check out the full ENR article and lists here.
Visit byrnelooby.com and connect with Byrnelooby on Facebook, Instagram, LinkedIn and Twitter.
FOR MEDIA QUERIES CONTACT:
ByrneLooby Marketing & Communications Manager:
Siobhan Warfield-Beattie
SWarfield@ByrneLooby.com
Cell: +353 86 8052995
T: +353 (0) 1 456 4370