OVERCOMING PORT CONSTRUCTION CHALLENGES WITH DIGITAL TECHNOLOGY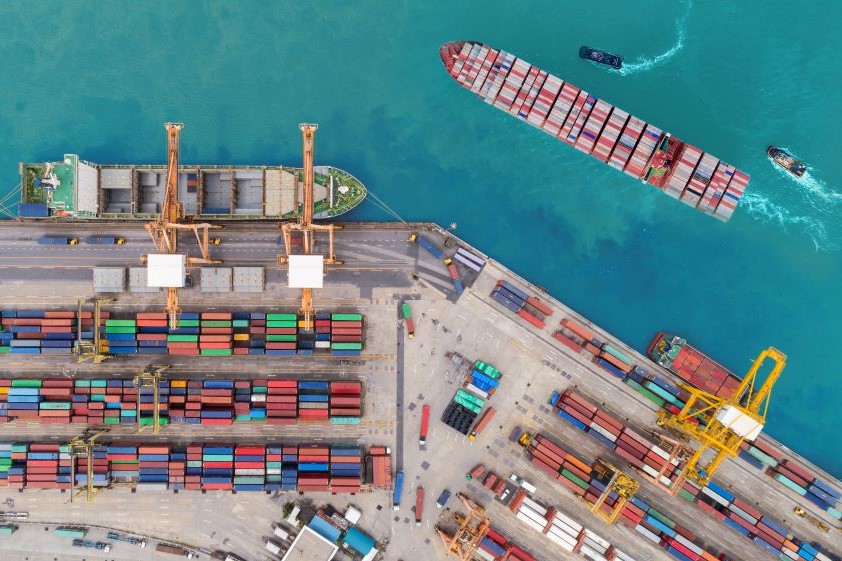 Article by Ian Dobson, head of UK maritime at ByrneLooby, An Ayesa Company
Featured on New Civil Engineer
With the government's much-touted Freeport scheme set to provide a massive boost to the UK's trading capabilities, there's never been a better time to be involved in marine and coastal construction.
As demand increases, port expansion requirements will be greater than ever, providing plenty of commercial opportunities for specialist contractors, subcontractors, consultants, and materials manufacturers. Just recently, the Port of Liverpool announced a multi-million-pound expansion, one of many similar announcements across the UK. And then, there's the consideration of any new additional infrastructure to support the offshore energy sector.

As these opportunities emerge, there are significant challenges that the industry will need to address in tandem. From a practical point of view, any engineer working in this field will agree that spatial issues remain a constant headache. I want to break it down into three critical pressure points, of which the first is the case of space. Space is tight, and it is challenging when accommodating multiple assets and dovetailing them with primary port function. Balancing on-land transport infrastructure and industrial and residential development is a fine art, as they're all competing for a footprint in a very constricted area. Therefore, careful planning between a broader range of stakeholders is required to maximise economic and social benefits across all sectors.

Second, from the marine side, a recent conversation I had with Crown Estates revealed the considerable demands for offshore space. Ports and shipping compete with environmental concerns, utilities, telecoms and renewable energy, which requires careful mapping to minimise any conflicts. Thirdly, climate change has resulted in rising water levels and frequent extreme weather events, which means port infrastructure must become higher, taller, and more robust. This, in turn, affects funding, the amount of energy, and materials used, which is tricky when trying to meet the benchmark of net-zero with limited resources. Fundamentally, it's a constant battle against the elements and the perpetual investment cycle.

The port sector will be front and centre in the creation of a hydrogen economy. Major port operators from Newcastle to Swansea are planning significant projects in the drive to decarbonise major industry though port-centric hydrogen production and transport. These projects are incredibly exciting requiring responsive delivery with innovative solutions to deliver the scale of changes on the horizon.

On the human side, there is, unfortunately, a significant shortfall in skillsets. Of course, Brexit has impacted the recruitment pool, but it goes deeper than that. There's the considerable task of internal upskilling as we use more and more digital tools and software in our day-to-day operations. Sustainability is also a key consideration. Anyone working on these projects needs to adhere to very tight criteria, which can be challenging when developing structural solutions in an extreme environment.

These are just a handful of specific, current problems we face. But I believe we are in an excellent position to address them head-on, particularly through the greater application of technology in port engineering.

For me, the sheer amount of software and hardware now available to engineers should be used to help us innovate and address these issues. Advances in mapping technology, particularly through the usage of drones and unmanned underwater vessels, offer greater accuracy, provide more precise data, maximise limited space, and reduce the risk of more hazardous tasks on-site.

Furthermore, whole-life asset management platforms are helping to better plan and coordinate crowded sites to ensure maximum value is extracted from existing assets and provide whole as-built asset information at handover, which is often used during the O&M phase. This reduces the likelihood of a costly rework or any clashes that may occur on and offshore.

The potential and benefits of AI and AR are becoming more apparent with high-definition visualisation technology increasing accuracy and, as a result, reducing waste during construction. These technologies also help us to achieve better quality control, moving us away from error-prone 2D workflows to 3D ones. Equally, automated machinery and the increasing use of robotics to deliver repetitive or high-precision tasks bring efficiencies and fewer work risks.

Previously there was apprehension about this technology; however, this has changed as many stakeholders now see this application as "empowering enablers" eliminating human risks and adding efficiencies, as opposed to "job-takers".

Ultimately, digital solutions are helping to address the physical and human challenges that currently exist around port planning and construction, and I've only scratched the surface of potential opportunities. With so much market activity and so many projects to complete on time and on budget, those involved in this vertical should be looking to invest strategically in the latest technology and up-skill their workforce to use it appropriately and for maximum benefit to all stakeholders.

As pressure mounts to get these supercharged assets up and running post-Brexit, the most digitally agile firms will stand to gain the most.

Those firms that continue to innovate within the marine and ports sector will deliver solutions that meet the demands of the next generation – a collaborative stakeholder delivery around constricted space, delivering new sources of energy, less risk, more asset resilience, optimum use of materials and a net-zero approach. It's time to take action and the future is now.
Further information

ByrneLooby is proud to be part of Ayesa. Ayesa has almost 6,000 staff members based in 20 countries around the globe. Ayesa's engineering work covers numerous fields with a market-leading international reputation in infrastructure, water conveyance and treatment systems, transport, marine, waste management, aeronautics and defence. Ayesa is also a consolidated technology consultancy, an expert in the digital transformation of large companies such as utilities and technological solutions for public institutions.
Siobhan Warfield-Beattie - ByrneLooby Senior Marketing Manager
SWarfield@ByrneLooby.com
Tel: +353 86 8372328